Best Partner To Seek For Your Residence in Tokyo!!
We are ready to support you to spend enjoyable life in Tokyo.
Without key money, no need of Guarantor (some difference seen according to each houses).
Fully equipped with: telephone, bed, desk, air-conditioning, refrigerator, closet.
Some houses provide you with Rental Bedclothes.
Monthly, Weekly & Daily ...OK !
You may use it as a guesthouse on a short-term basisis .A hearty welcome to you !


LOCATION MAP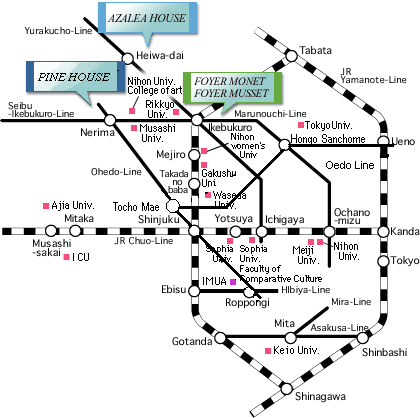 ■FOYER MONET & MUSSET ■AZALEA HOUSE ■PINE HOUSE  

[ admission regulations ]



HARUO YOKOYAMA - THE FOUNDER OF WORLD STUDENT VILLAGE 
World Student Village Inc.
1-9-6, Kami-ikebukuro, Toshima-ku, Tokyo, 170-0012
TEL:03-3917-0301 FAX:03-3917-1139
E-MAIL:sidemt@t.toshima.ne.jp

---
Copyright (C) World Student Village Inc. All rights reserved.